From our senior living center to our independent living neighborhood, virtually every NewAldaya Lifescapes resident has a bucket list. And while many of these folks put their "must-dos" on hold during the years they spent raising a family, now is the time for relatives and caregivers to help senior loved ones put a dent in their bucket list.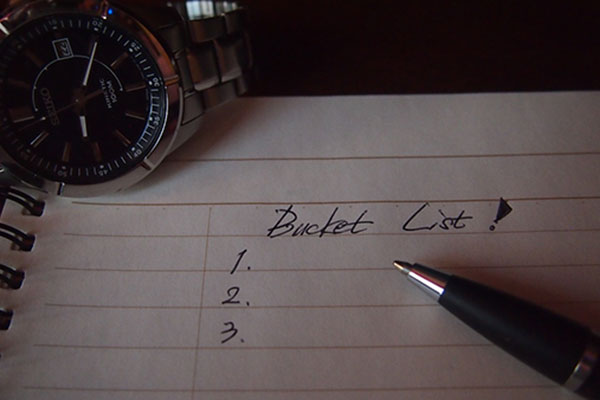 Learn a New Language
Many seniors want to learn a new language, and there are lots of online courses to help them do it. Moreover, your loved one might enjoy taking a language course at a local college. And since international travel is the main motivator for learning a new language, some seniors may choose to learn a dialect by spending time in a country where it's spoken.
Embrace a New Hobby
Many people, seniors and otherwise, have a notion to pursue a hobby or two. For seniors, local community centers and schools offer free or low-cost classes for a variety of interests. With their help, your loved one will develop the skills needed to practice their new hobby in no time.
Travel
For lots of people, wanderlust is just as strong in our senior years as it is in youth. Many seniors want to see at least one special place before they die. Maybe it's one of the Seven Wonders of the World, or maybe it's a place where your loved one grew up or that holds a special place in their heart. Helping your loved ones create an itinerary is a lot of fun–especially if they invite you to join them on their travels.
Read a Particular Book
Our assisted living community has lots of good books around, but that's just a drop in the bucket given that there are over 130 million books in the world. Many seniors have a book on their list they may not have read or cherish so much that they'd like to read again. Ask your loved one what book they're interested in and see if it's available at the local library or online.
Create a Work of Art
Everyone possesses the "creative spark", and for some seniors that spark is best expressed in painting. If your loved one is ready to create a masterpiece and wants to take classes to learn the skills needed to create his or her work of art, there are plenty of online and in-person classes to consider. Another option is to buy a paint-by-number or adult painting book to help make your loved one's dream a reality.
Write a Memoir
Writing is a timeless form of expression and for many people the ideal way to define their life and legacy. Seniors desiring to leave their experiences and memories in written form for the next generation to read would love to have you as a sounding board (or note-taker) during the writing process. And if you're looking for a way to get the creative juices flowing, buy a book of prompts that helps your loved one get comfortable by writing answers to common questions.
Help Your Senior with Their Bucket List Today
If your senior loved one hasn't created a bucket list yet, now might be a great time to start one. For ideas, contact NewAldaya Lifescapes today. Between our staff and our residents, you'll find no shortage of inspiration in our senior living community.