Extended Care
Let Us Provide Expert Care for Your Loved One
At NewAldaya, we have a long and proud tradition of providing quality and expert nursing care. Throughout our 60-plus-year history, NewAldaya's recognition as one of Cedar Valley's premier providers is unmatched. We want to make sure you feel at home and comfortable during your extended stay with us. You'll appreciate our many extended care services, including: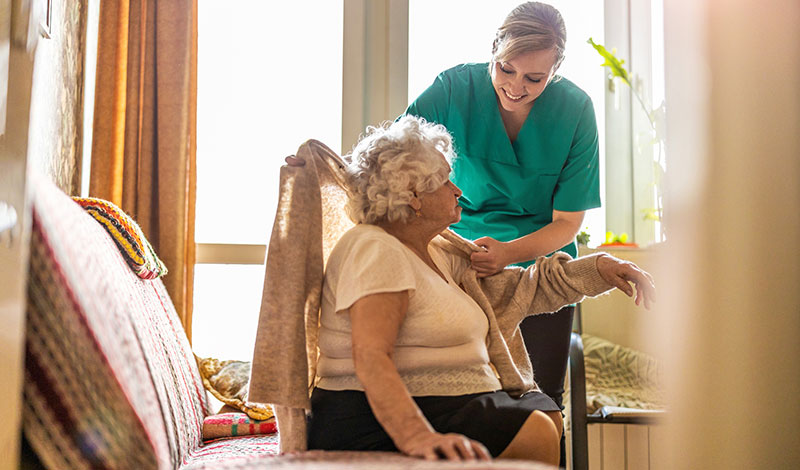 Licensed staff: You can count on our professional and friendly nurses, certified nursing assistants, certified medication aides and certified restorative aides for all your medical needs.
Nursing care: We provide full nursing care 24 hours a day in both NewAldaya's intermediate and extended care areas.
Respite care: If you need a break, are planning a vacation or need assistance for a short time, we can help. Take advantage of our convenient respite care services. Your loved one will be in good hands with us.
Our Extended Care Services
The services we offer include (but are not limited to):
In-house IV antibiotics & fluids
Medication management & support
Total parenteral nutrition (TPN)
Wound management & healing (including wound vacs)
BiPap therapy during sleep hours
Lab draws & in-house x-ray facilities
We offer a variety of nursing services to assist residents in maintaining their independence and in improving their quality of life.
Additional Care Options
Many other departments at NewAldaya play an instrumental role in the top-notch care we provide to our residents. You and your loved ones will appreciate our:
Dining services
Recreational therapy
Music activities
Art therapy
Horticulture therapy
Facility services (including housekeeping & laundry)
Chaplaincy program
Dietitian services
Social services
We always offer amenities that promote our mission of Christian caring.
Trust Our Expert Nursing Care
To complement the continuum of care we provide at our campus, nursing care is an essential part of the complete package we offer to residents. NewAldaya has private and semi-private rooms available, along with a variety of wings to choose from, depending on availability. Our restorative aids help residents provide and maintain their highest level of function for as long as possible.
Schedule a Free Tour of Our Extended Care Facilities
Contact NewAldaya Lifescapes to schedule a free tour. Contact our Director of Admissions at (319) 268-0401. You can also use our online contact form to request a tour, ask a question and more.