Skilled Nursing & Therapy
Offering Nursing Care, Therapy Services & Coordinated Care
At NewAldaya, we recognize that choosing skilled care can be a difficult decision. Rest assured that when you choose us, we work closely with you and your doctor to make the process from hospital to short-term rehab as seamless as possible.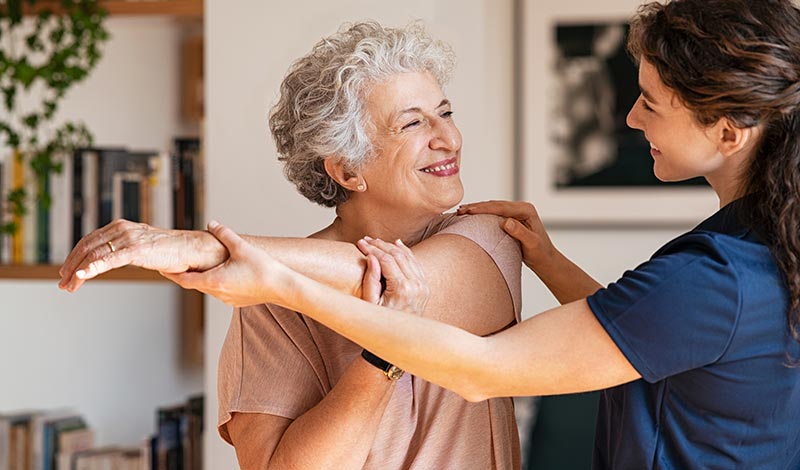 We pledge to provide you with exceptional, cutting-edge care, and we are pleased to offer post-acute and rehabilitative care to help you recover and return home. Our facilities and team have many services to offer you for your nursing care and therapy for a stronger recovery.
Nursing Care
Our nursing care includes but is not limited to:
In-house IV antibiotics & fluids
Medication management & support
Total parenteral nutrition (TPN)
Wound management & healing (including wound vacs)
BiPap during hours of sleep
Lab draws & in-house X-rays
Therapy Services
NewAldaya offers therapy services that include, but are not limited to:
Rehabilitation therapy staff (physical, occupational & speech therapists)
Wound management & healing
Lymphedema therapy
Accelerated Care Plus Modalities (ACP) services, including diathermy, electrical stimulation, ultrasound, omnicycle & NuStep
Individualized treatment plans & goal setting
Evaluation of your home for safe & appropriate return, as needed
Hospitality & Amenities
In addition to our nursing care and therapy, NewAldaya Lifescapes offers the following amenities and hospitality services:
Large private & semi-private rooms with on-suite bathrooms
Home-like décor & furnishings, including flat-screen TVs, spacious closets, guest seating & much more
Professionally licensed nurses, social workers, a dietitian & recreational therapists
On-site, state-of-the-art rehabilitation therapy gym
Chaplaincy services offered
On-site chapel
Transportation services & scheduling for medical appointments
Menu selection room service & dining options
When It's Time to Return Home
To facilitate your return home, our therapy and social work staff will assist you.
We will evaluate your own home for a safe and appropriate return.
We will prepare a home exercise plan.
We will help with selecting necessary home equipment and adaptive devices.
We will work with the appropriate agencies to provide support for a safe transition, including home health providers, meals on wheels and life alert products.
How to Qualify
Private insurance and Medicare Part A cover our nursing service. Medicare Part A requires a three-night acute care hospital stay within 30 days prior to your skilled admission. Some insurance providers do not require this three-night stay requirement.
Medicare pays for transitional care in a nursing home only for limited periods following hospitalization. Prerequisites that qualify a person for Medicare skilled nursing coverage include:
A person must have three overnights in an acute care hospital within 30 days of admission to a skilled nursing center.
A 100-day maximum stay must be related to any one hospitalization and diagnosis.
A person must make regular progress as documented by medical professionals. If progress toward a prior level of function is no longer occurring, Medicare coverage ends.
A person must have a physician order for skilled nursing services.
Book a Personal Nursing Care Evaluation Today
Choose the best nursing care in a comfortable setting at NewAldaya. You have a choice when it comes to short-term rehab. Tell your doctor or hospital discharge planner that you choose NewAldaya Lifescapes. Call Admissions for a personal evaluation and explanation of services at (319) 268-0401.