Dining & Entertainment
Senior Living at Its Best
NewAldaya Lifescapes offers dining and entertainment services as part of our senior living amenities on our Main Street, featuring River Rock Café and Elm's Pub.
Join us at Friday Night Live! Open to the public.
Bring your friends for a fun evening. Have a beverage and enjoy the live music.
Click here for upcoming performances.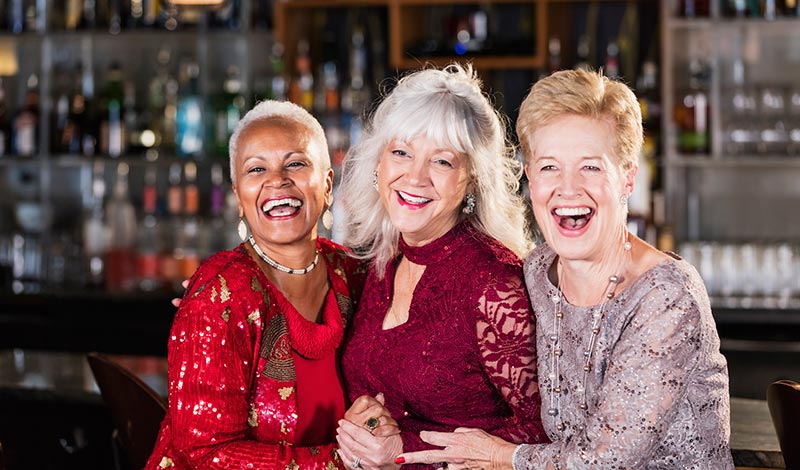 dining-anchor
River Rock Café
In Honor of Sam & Lois Schoof
Your choices are almost endless at our River Rock Café. Stop in for lunch or dinner and enjoy food from our delicious menu. From wraps and salads to sandwiches and paninis, our selections will satisfy every craving throughout the day. Enjoy a bowl of homemade soup, a cup of coffee and one of our yummy desserts while reminiscing with friends and family.
pub-anchor
Elm's Pub
Inspired by the classic elegance of an old-world pub, Elm's Pub is the perfect place to catch up with old friends and make new ones. We also offer multiple entertainment options at the pub throughout the month. There's always something new to explore!
Elm's Story
"After my dad, Elmer Cawelti, had trouble going out to Sunday dinner, I would bring a cooler with one cold beer to his room. Often, after his first sip, he would exclaim, "Man, that's GOOD!" He always looked forward to his Sunday beer with visitors.
"When my wife and I talked about sponsoring a space at NewAldaya, we immediately thought of a place where people could meet, relax and enjoy the sociability that comes with a genuine pub.
"Elm would have loved it."
—Scott Cawelti & Angeleita Floyd
Contact Us at NewAldaya
Discover more about our senior living amenities and dining and entertainment services by calling us today at (319) 268-0401. You can also submit your information through our contact form to reach our team.