Everyday Wellness
NewAldaya Lifescapes dedicates itself to providing senior living wellness as part of our amenities and care. Enjoy working out at our wellness center, visiting Vern's General Store or going to a service at our on-site chapel.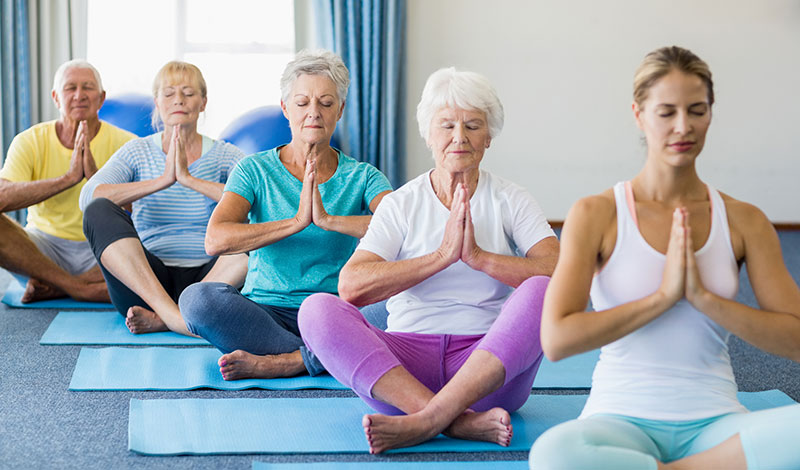 Care to share your fitness talents?
If you are willing to teach or bring a fitness focused program to our wellness center, please contact Alicia Moran at at 319-533-2251 or email info@newaldaya.orgmailto:info@newaldaya.org.
Senior Living Wellness Center
We Received the Fit Friendly Award
This vibrant, energy-filled space allows you to choose weights or cardio machines, or you can even join a wellness class. We're also open to the community, so family members can join us!
"I fell down when I was at home alone. This was the second time, but this time, I wasn't hurt and was able to get up myself. I attribute that to the regular exercise and continued strength training done at NewAldaya Wellness Center after being discharged from therapy following my initial fall."
—Elvin, Wellness Center Member
Senior Living Wellness Hours
Community: Monday through Friday, 7 a.m. to 8 p.m.
Residents & Staff: 24-hour access
Programs
Wellness coaching & strength training
Personal training & fitness classes
Well-being seminars
Community presentations available upon request
Fitness Opportunities
Monday & Wednesday & Friday
Back to Basics -10:00
A fun class that works the whole body with strength exercises and movement. These exercises are for all levels and can be modified to keep you going.
Monday & Wednesday:
POWER U 3:15
A full body workout that targets all of the major muscle groups. You'll integrate strength and stretching exercises to produce stronger bones and muscles while at the same time increasing your metabolism to help maintain a healthy body weight. All levels are welcome, as the simple strong movements may be more intense with heavier weights!
Tuesdays & Thursdays:
Yoga – 4:30
This class will combine exercise techniques from both Yoga and Pilates that will promote a strong core. This will be a progressive class building on our foundation poses/exercises to improve strength, balance, flexibility, and stamina.
Strength and Tone – 1:15
An easy flowing sequence of gentle stretches and strengthening exercises will promote increased strength, flexibility, & vitality.
Special Events:
Restorative Yoga
A short sequence of gentle poses held for extended periods of 5 minutes or longer. Props are used to support the body, enabling you to calm the mind and body to reach a deeper sense of relaxation.
Restorative Yoga is very beneficial in combatting the damage of everyday stress. Held in a quiet environment, along with the gentle nature of the poses, it is very soothing and a welcome retreat from our hectic lives.
Chapel-anchor
Chapel
Christian Caring—enhancing lives through a commitment to individualized care in a home empowered by God's love—has been the core of our mission since our founding. It emphasizes the value we place on people and our dedication to residents' quality of life for senior living wellness.
What Christian Caring Really Means
Everyone is welcome at NewAldaya Lifescapes.
We treat every person with the highest level of respect and thoughtfulness.
We support choices and offer options for better living.
NewAldaya Lifescapes is a safe, secure and vibrant community in which to live and visit.
Our focus of well-being includes a full-time Chaplain to support spiritual wellness.
All are invited to worship in our beautiful Good Shepherd Chapel.
We help you live better.
Our life plan community offers the reassurance of a plan for the future and a focus on you.
Scheduled Chapel Services
Regularly scheduled services include:
Dining Room Devotional Prayer: 11:30 a.m. to noon, Tuesday through Friday
Morning Worship & Devotion in the Chapel: 9:30 a.m. Tuesdays
Bible Study in the 1st Floor Assisted Living Lounge: 1:15 p.m. Tuesdays
Devotion in Cascade Area: 10:15 a.m. Wednesdays
Vespers in the Chapel: 4:00 p.m. Wednesdays
Anointing Service: 2nd Wednesday of the month
Morning Worship & Devotion in the Chapel: 9:30 a.m. Thursdays
Bible Study in Cascade Area: 10:30 a.m. Thursdays
Hymn Sing in Chapel: 4:00 p.m. Thursdays
Morning Worship & Devotion in the Chapel: 9:30 a.m. Fridays
Bible Study in the Chapel: 10:35 a.m. Fridays
Sunday Worship in the Chapel: 10:30 a.m. Sundays
Holy Communion: 2nd Sunday of the month
Contemporary Service: 3rd Sunday of the month, 9 a.m.
Worship & Devotion in Memory Care Unit: 4:00 p.m. Sundays
Worship & Devotion in Cascade Dining Room: 4:30 p.m. Sundays
Other services:
Maundy Thursday Service
Good Friday Service
Easter Service
Vern's General Store
Stop by Vern's General Store to grab groceries or whatever you need Monday through Friday from 10 a.m. to 6 p.m. Read the full story about the history of Vern's General Store.
Contact NewAldaya Lifescapes
Find out more about our commitment to senior living wellness by contacting NewAldaya Lifescapes. Call us at (319) 268-0401 or let us know where we can reach you by submitting our online contact form.