Find All the Action on Our Main Street
The Premier Senior Living Community in the Cedar Valley
Every great community has a Main Street. A busy main street is usually where you find all the action, conversation and excitement. The same is true at our NewAldaya Lifescapes Main Street. You'll love the true feeling of community we have here.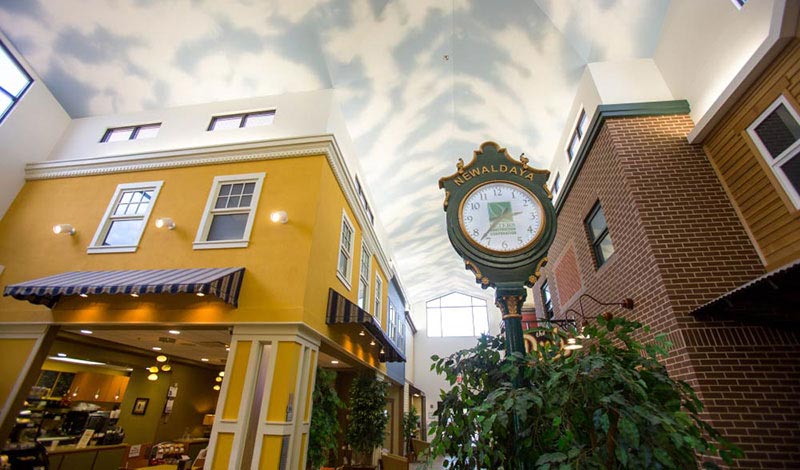 Stop by to relax and rejuvenate at the New Day Salon Spa. Enjoy an evening or a get-together with friends at River Rock Café. Come in for a drink at NewAldaya's own Elm's Pub with a full-service bar. You really can have it all at NewAldaya Lifescapes.
Stop by NewAldaya Lifescapes and enjoy a delicious meal at the River Rock Café. Then stick around and catch up with friends over a drink at Elm's Pub. You can even reserve our rooms and enjoy a meal of your choice prepared by our chef.
Join us at Friday Night Live! Open to the public.
Bring your friends for a fun evening. Have a beverage and enjoy the live music.
Click here for upcoming performances.
"Live Better. Live Well." That's the motto at NewAldaya Lifescapes. We offer a full-service wellness center to help you maintain your health your way. Take advantage of several different classes each week and join our friendly gym to maintain or improve your healthy lifestyle. After a great workout, swing by Vern's General Store and pick up your groceries. We truly are your one-stop shop for everything.
Renew, relax and rejuvenate with a day at NewAldaya spa. Our New Day Salon and Spa offers manicures, pedicures, hair styling services and massage therapy. Let us pamper you.
Discover More
Find out more about our community by contacting NewAldaya Lifescapes at (319) 268-0401 today. You can also use our contact form to reach us online at your convenience.