As the holiday season approaches, NewAldaya Lifescapes invites you to participate in our heartwarming Adopt-a-Resident Program. This initiative, developed by a compassionate CNA and brought to life by the dedicated Recreational Therapy department, aims to spread joy and festive cheer to our 110 residents in the nursing facility.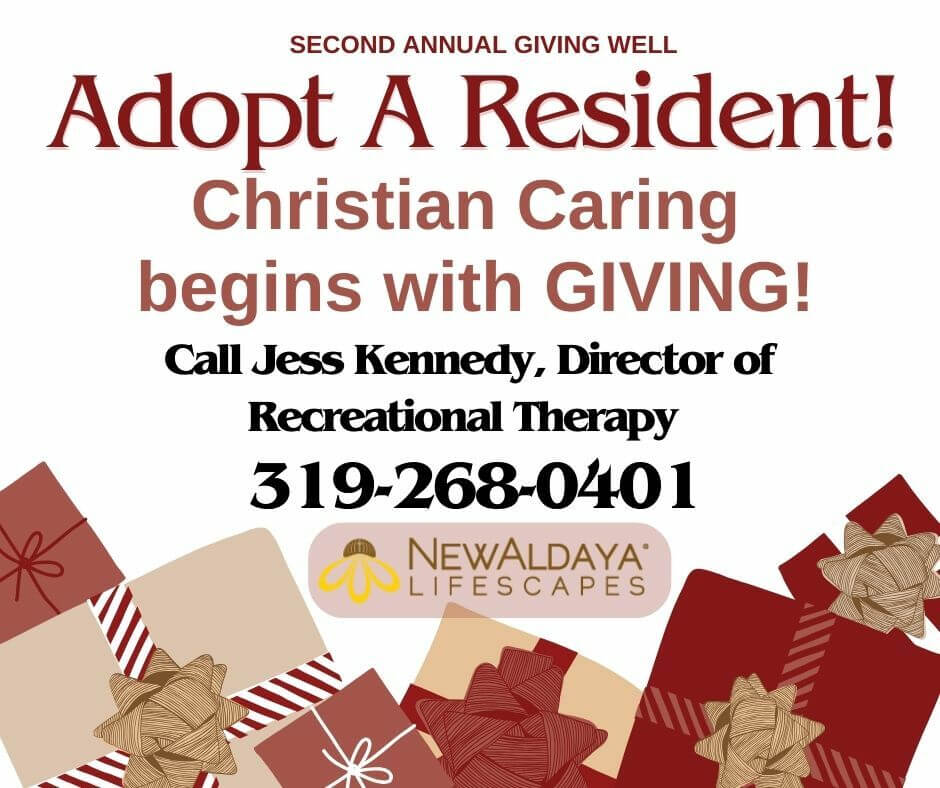 Program Details:
1. Adopting a Resident Responsibilities:
Call and ask for a resident to adopt or drop by our location 7511 University Avenue Cedar Falls, Iowa 50613 and sign up. After signing up, you will receive an email from Jess Kennedy, the Director of Recreational Therapy, containing:

A designated resident number for easy identification.
A drop-off deadline to ensure timely delivery by Christmas.
Optional: Provide your address for a heartfelt thank-you card from the residents.
2. Gift Suggestions and Resident Information:
Recreational Therapy staff gathers resident preferences, including gender, clothing size, favorite color, wish items, hobbies, and dietary restrictions.
Gift ideas include gripper non-slip socks, blankets, body wash, shampoo/conditioner, door decorations, holiday socks, and individually packaged snacks.
Cash is not accepted, but gift cards for NewAldaya Lifescapes amenities (available at the Front Desk) are welcomed.
3. Program Timeline:
The program started on November 1st.
Staggered delivery dates ensure efficiency, with the first round of gifts due by December 4th and the final round by December 20th.
4. Program Origins:
Conceived by a NewAldaya Lifescapes CNA, the Recreational Therapy department brought the program to life in November 2022.
5. Future Expansion:
This year's program focuses on nursing facility residents.
The goal is to expand to Bryhl Assisted Living and Independent Living Communities in the coming years.
6. Cost and Limitations:
No minimum or maximum spending limit is set.
Residents appreciate any thoughtful gifts, regardless of the monetary value.
7. Anonymous Contributions:
While assigned adoptions involve personalization, you can make anonymous contributions of general supplies at the front desk.
Join NewAldaya Lifescapes in making this holiday season special for our residents. Your generosity will create lasting memories and bring smiles to the faces of those who call NewAldaya home.

For more information or to participate, contact Jess Kennedy, CTRS, Director of Recreational Therapy, at 319-553-2218 or visit 7511 University Ave, Cedar Falls, IA 50613. Let's make this holiday season a time of joy, connection, and giving well!