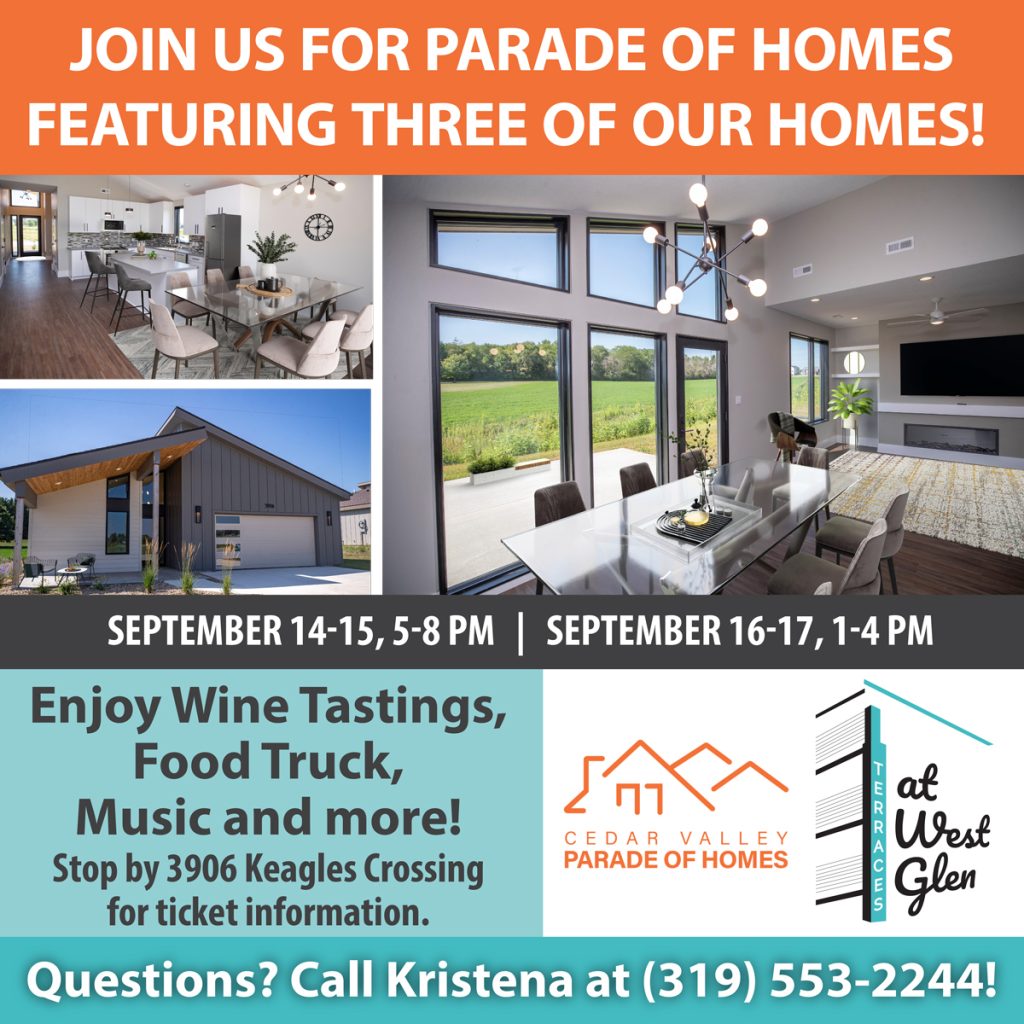 Hey there, fellow home enthusiasts! We've got some fantastic news that will surely brighten up your day. Three of our stunning homes at Terraces at West Glen our 55+ community have been selected to be a part of the Cedar Valley Parade of Homes, and we can't wait to show them off to you! Fourteen houses from Cedar Valley's best builders have been registered for this year's parade
Mark your calendars for September 14-15 from 5-8 PM and September 16-17 from 1-4 PM because you won't want to miss this incredible event. It's your chance to explore the heart of our 55+ community in Cedar Falls, Iowa, and experience the epitome of modern living. And trust us, there's plenty more in store for you!
🏠 Welcome to Terraces at West Glen before we dive into the exciting event details, let's take a moment to introduce you to our beloved community. Terraces at West Glen is a haven for active adults, offering a lifestyle that's second to none. Our homes are designed to provide comfort, convenience, and style, all nestled in a serene and picturesque setting in the heart of the Cedar Valley.
🏡 Three Magnificent Homes on Display During the Cedar Valley Parade of Homes, you'll have the exclusive opportunity to tour three of our exquisite homes. Whether you're looking for a cozy retreat or a spacious abode for entertaining, we have something for everyone. Our expertly crafted homes will leave you in awe with their attention to detail and contemporary design.
🍷 Wine Tastings, Food Truck Delights, and More! But that's not all! We're turning this into a celebration. While you explore our homes, savor a delightful assortment of wines during our wine tastings. Satisfy your taste buds with delicious treats from a local food truck, setting the perfect ambiance for a relaxing evening of home inspiration.
🎶 Music to Set the Mood Music adds a special touch to any event, and we're bringing in the tunes to make your visit even more enjoyable. Let the melodies serenade you as you soak in the beauty of our homes and the community around them.
🗺️ Interactive Map for Easy Navigation We've made it simple for you to plan your visit. Check out our interactive map on our website to get a sneak peek of our showcased homes and plan your route for the Cedar Valley Parade of Homes. We want your experience to be seamless and enjoyable from start to finish.
🎟️ Get Your Tickets Now! Ready to join us for this unforgettable event? Secure your tickets today through the Cedar Valley Home Builders Association website at https://cedarvalleyhomebuilders.com/parade-of-homes/. You can also reach out to Kristena at (319) 553-2244 for more information and ticket details.
At Terraces at West Glen, we believe that home is where the heart is, and we can't wait to share our passion for creating exceptional living spaces with you. Whether you're looking for your dream home or simply seeking inspiration, our community is the place to be this September.
Don't miss out on the Cedar Valley Parade of Homes at Terraces at West Glen – a celebration of style, comfort, and community. We'll see you there!