Across Iowa and nationwide, many people living with Alzheimer's disease are cared for by family members–an arrangement that offers many positives for the caregiver and the person being cared for. NewAldaya Lifescapes helps Iowa families provide the best possible Alzheimer's support through our memory care and assisted living solutions, as well as our partnership with LeadingAge Iowa.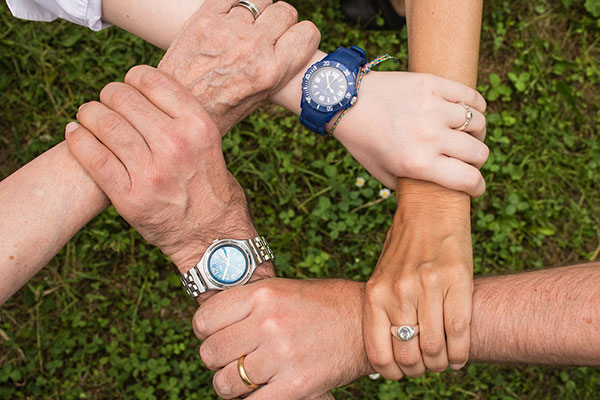 Memory Care at NewAldaya Lifescapes
Founded in 2015, the 20-bed Memory Care House at NewAldaya Lifescapes is a safe, secure residence that protects and cares for your loved ones while adhering to the most rigorous healthcare and memory care standards. Our Memory Care House includes two living arrangements: 12 private rooms each with its own full bath, and eight private rooms with a shared full bath. The Memory Care House wouldn't have been possible without our partnership with LeadingAge Iowa, which has provided invaluable support in the form of research and staff training. Thanks to LeadingAge Iowa, our caring team is equipped with all of the tools necessary to support your loved one, including the most current information about Alzheimer's and dementia.
In addition to its comfortable living environs, the Memory Care House offers state-of-the-art technology via our "It's Never 2 Late" system. This groundbreaking approach offers special training for each resident of our Memory Care community and helps them maintain the highest level of cognitive functioning. Additionally, we offer a full suite of amenities that includes three private outdoor areas with a covered patio, garden, and green space, a full-service spa and medi-suite, and two open-concept, family-style great rooms.
About LeadingAge Iowa
LeadingAge Iowa (LAI) is a statewide, non-profit membership organization that not only provides exceptional aging services and support but also champions advancements and innovations in the field. The organization's membership is incredibly diverse, covering the full spectrum of support and service providers including skilled nursing, assisted and independent living, PACE, home health, adult day, respite, hospice, and home-delivered meals. Each day, LeadingAge Iowa serves over 25,000 older adults in The Hawkeye State.
Core Benefits
Advocacy
LAI provides a strong, impactful voice for every Iowa not-for-profit aging service. LAI is a consistent presence on Capitol Hill and at the Iowa Statehouse, working diligently to remove barriers to care, develop new services, and improve reimbursement to make Iowa one of the best states in the U.S. to grow older.
Education
LAI offers a full range of valuable educational opportunities for Iowans involved in the aging services field. These opportunities include a Spring and Fall conference, a Nurse Leadership Symposium, Quality and QAPI workshops, webinars and on-demand education, DON support and training, alternative payment models, and reimbursement education. There's also the LAI's Leadership Academy, a year-long leadership program designed to give tomorrow's aging services leaders the tools they need to extend the message even further.
Quality Improvement
LAI offers services to help providers continually improve the quality of care. Services include next-gen tools and resources, data benchmarking, targeted webinars, and nurse consulting services. Moreover, LAI also provides monthly consulting and mentoring, targeted engagements, audits, and mock surveys.
Talk With Us Today About Alzheimer's Family Support
Although most people willingly provide care to loved ones in need of memory care, it can be a difficult task that at times may even seem overwhelming. Each day brings new challenges, and that's why NewAldaya Lifescapes prioritizes experienced, caring Alzheimer's support for our residents and their families. Talk with us today about how we can help.