For NewAldaya residents, socializing within our retirement community provides a range of great benefits to physical and mental health. In fact, making friends and strengthening those connections is integral to improved brain health and a lower risk of dementia. From grabbing coffee to vacationing with a group of friends, any type of social interaction is encouraged.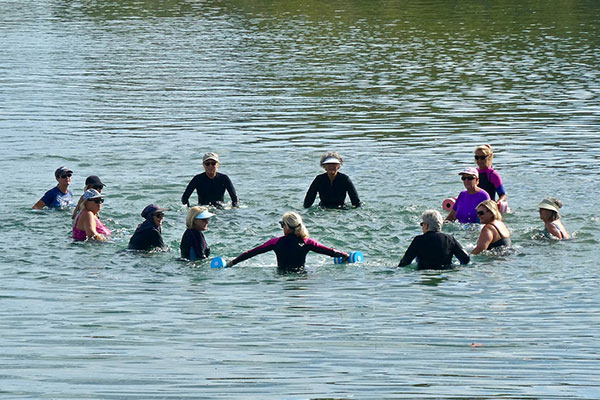 Benefits of Socialization
Some of the many benefits of an active social life include:
Longer Lifespan
People with more social support tend to live longer than those who are more isolated. This is true even after accounting for one's overall level of health concerning past illnesses and existing infirmities.
Better Physical Health
Social engagement is associated with a stronger immune system, especially for older adults. This means a heightened ability to fight off colds, the flu, and even some types of cancer.
Better Mental Health
Interacting with others boosts feelings of well-being and decreases feelings of depression. Research has shown that one sure way of improving your mood is to work on building social connections.
Lower Risk of Dementia
More recently, there has been accumulating evidence that socializing is good for your brain health. People who connect with others generally perform better on tests of memory and other cognitive skills. And, in the long run, people with active social lives are less likely to develop dementia than those who are more socially isolated.
Socialization and Support Opportunities at NewAldaya
New Day Salon & Spa
Renew, relax, and rejuvenate at NewAldaya's very own New Day Salon & Spa. Manicures, hair styling, massage therapy, and more, conveniently located just a stone's throw from your residence.
River Rock Café
Whether you have a taste for lunch or dinner, you're spoiled for choice at our River Rock Café. Enjoy a variety of delicious food, from wraps and salads to sandwiches and paninis. Or, just sit back and enjoy a bowl of homemade soup, a cup of coffee, or a tasty dessert while catching up with friends new and old.
Elm's Pub
Inspired by the classic elegance of an old-world pub, Elm's Pub is the perfect place to catch up with old friends, make new ones, and listen to live music from a variety of local bands and musicians. You'll be hard-pressed to find another independent and senior assisted living community with a genuine pub that matches Elm's penchant for relaxation and socialization.
Wellness Center
"Live Better. Live Well" is the motto at NewAldaya Lifescapes, and our full-service senior wellness center is proof positive of our commitment to healthy lifestyles. Join our friendly, well-equipped gym and you can take advantage of several different classes a week, each one focused on helping you maximize your physical and mental fitness.
Expand Your NewAldaya Social Circle Today
At NewAldaya Lifescapes, there are a variety of ways that residents of our independent living facility can connect with others and enjoy the short- and long-term benefits of socialization.  Whether you're a resident, a family member, or a caregiver, contact us today, and let's talk about what you or your family member loves to do and how to get the most out of our supportive community.